Anindilyakwa Arts is a thriving hub of creativity spanning the Groote Archipelago in the Gulf of Carpentaria NT. The warnamamalya led creative program proudly supports local employment and encourages traditional and contemporary creative practices. Anindilyakwa Artists explore creative avenues through "old and new ways", drawing on deep knowledge of traditional practice, and experimenting with contemporary art disciplines. 
Anindilyakwa art is unique to the region, in both style and technique, though often speaks to neighbouring mainland artistic practices. Traditionally, Anindilyakwa artists have been known for their bark painting, which feature floating motifs within a sea of manganese, and dash painting – a style of artwork featuring a bold form of pattern and linework entirely unique to the region.
Contemporarily, Anindilyakwa artists have become closely associated with their Bush Dye practice. Developing from traditional mangkurrkw (pandanus) dyeing to the beautiful, textile based artform it is today, bush dye requires artists to have an in-depth knowledge of, and relationship with, Country, plants, and culture. Our bush dye is constantly being experimented with, developed into new exciting artforms, and is actively shared with all Anindilyakwa women and girls.
"Our art centres are a very important space for community. Through our art we are confident as we carry what we were taught by our ancestors. Our art hold stories and information of our land and songlines.
The art centre brings a healthy kinship amongst us and is a safe place for us. We are proud to be a part of the art centre – here we can teach the young ones through our art so they can keep our culture strong into the future."
Noeleen Lalara – Lead Art and Culture Officer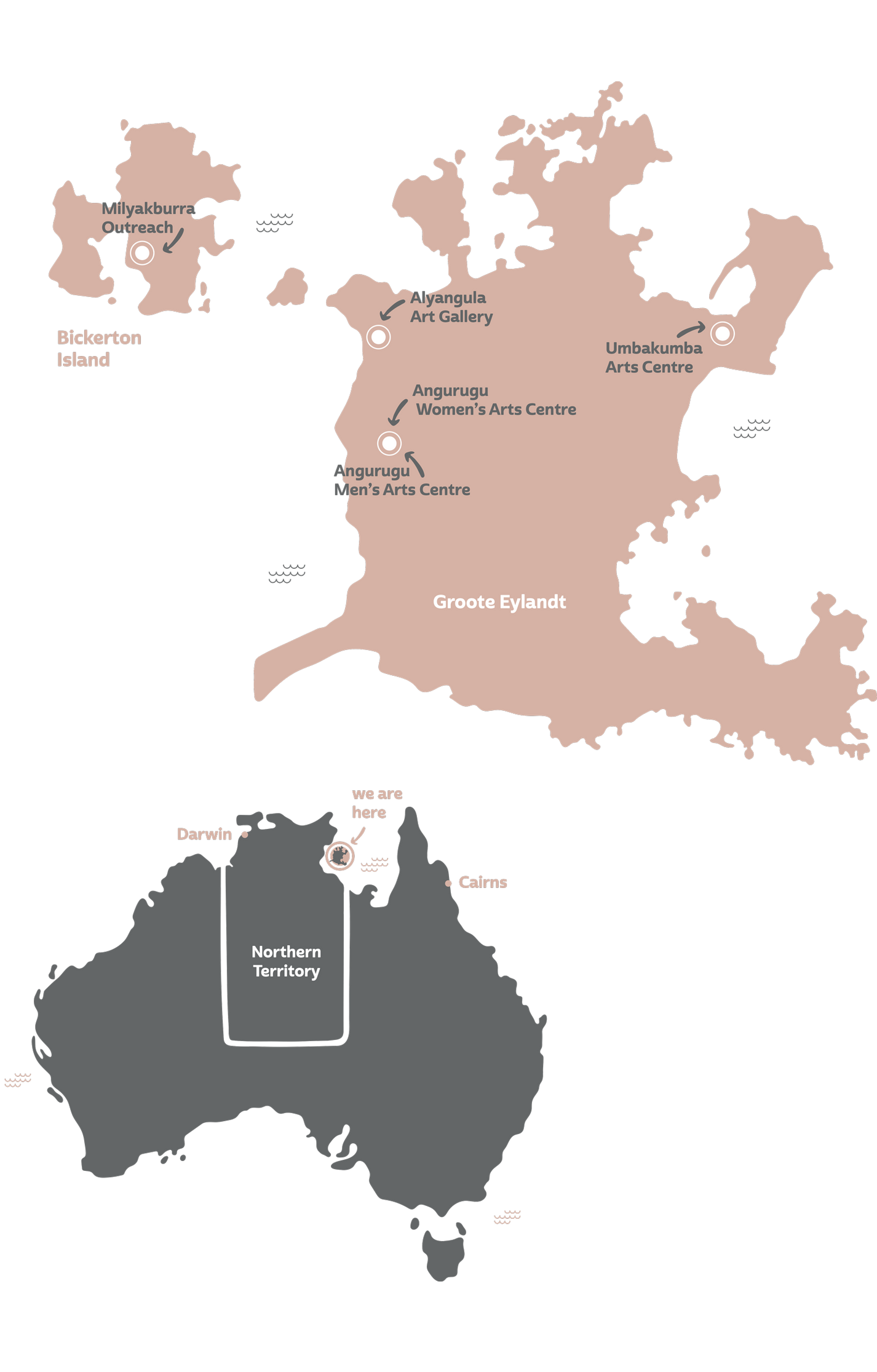 Our Programs
Anindilyakwa Arts represents approximately 450 member artists. Undergoing a restructure in 2022 to better support our community, Anindilyakwa Arts runs the following programs:
Angurugu Women's Art Centre
A contemporary arts program that explores fibre art, bush dye, printing, works on paper, and jewellery. Angurugu Women's Art Centre supports regular bush trips, creative development workshops, youth engagement programs and professional development opportunities.
Umbakumba Women's Art Centre
Working closely with Angurugu, Umbakumba Women's Art Centre supports a similar contemporary arts program for those living on the eastern side of the Eylandt. As in Angurugu, Umbakumba supports regular bush trips, creative development workshops, youth engagement programs and professional development opportunities.
Angurugu Men's Art Centre Working predominately with traditional materials such as wood and ochre, our men's art program pushes the boundaries of traditional artforms to tell old stories in a new, contemporary light. Led by senior song-men, the Angurugu Men's Art Centre engages in regular creative development workshops, bush trips and contribute heavily to our outreach program and oversight of the Groote Eylandt Community Collection.
Alyangula Art Gallery
Located in Alyangula, next to Groote Eylandt Lodge, the Alyangula Gallery is the public face of Anindilyakwa Arts. Open for artwork purchasing, our gallery also hosts community events, educational visits, workshops, and cultural and tourism experiences.
Artist Outreach Program
Ensuring that all artists can access support from the art centre, regardless of where they live, we primarily support artists on Milyakburra and outstations across the Groote Archipelago. In late 2022, our outreach program expanded to support artists who have relocated to Cairns and Darwin.
External Art Program
Including exhibitions, art fairs, art awards, community and public workshops, media engagements, and residencies. 
Groote Eylandt Community Collection
Held in trust on behalf of the Anindilyakwa community, the Art Centre houses the unrestricted portion of the collection. Featuring culturally significant historical and contemporary work, the art centre assists in return of cultural items, collection management and public access.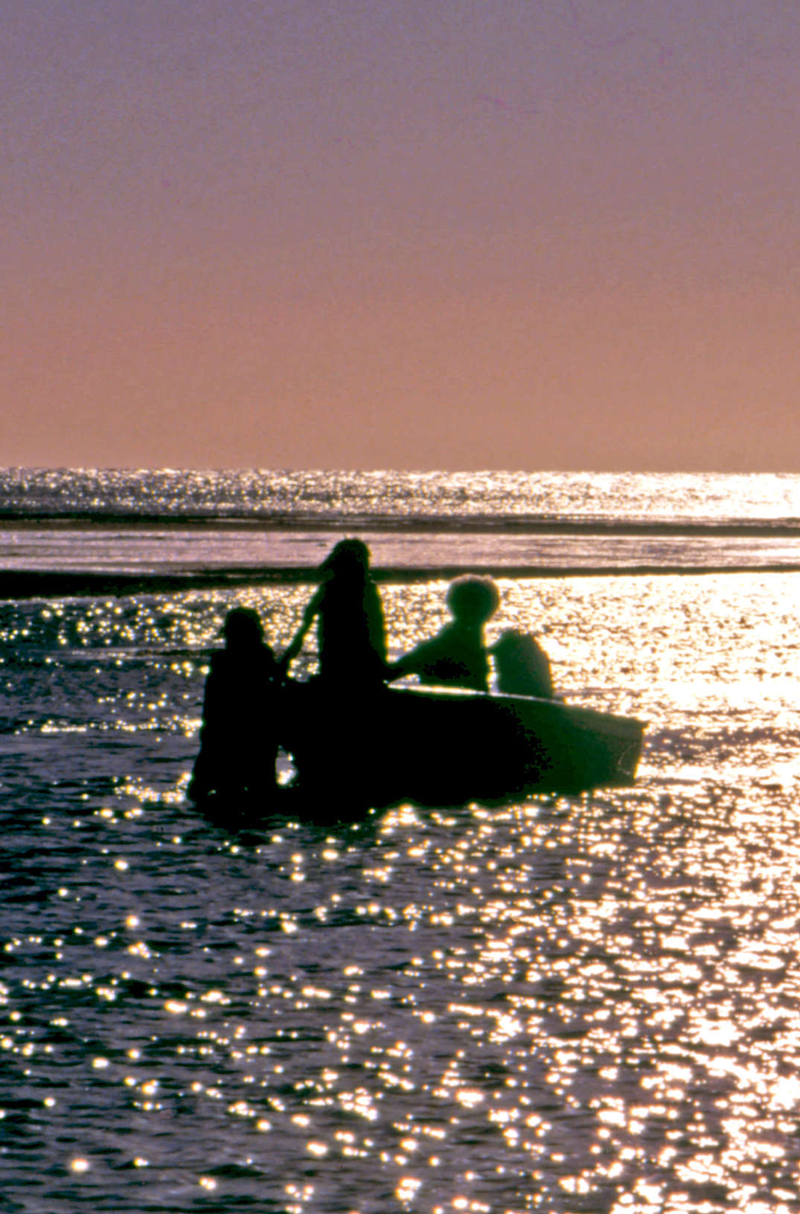 Groote Eylandt is Australia's fourth largest island, sitting roughly 45 kilometres of the coast of NE Arnhem Land in the Australian Top End. One of the most pristine islands of the region, Groote Eylandt is a haven for native marine and wildlife, which have been protected from the introduced predators, livestock and industry of the mainland, and feature heavily in Anindilyakwa culture, lore and art.
Anindilyakwa Arts was formally founded as an art centre in 2005, after a long history of Anindilyakwa art creation and sale on-Eylandt. Created with the support of the Anindilyakwa Land Council (ALC) for the cultural and economic benefit of all Anindilyakwa People, the art centre was established with a strong focus on traditional art making and cultural practices.
Beginning as a single community art centre in Angurugu, established in the old Angurugu Mission school. Strong community engagement led the art centre to grow rapidly to establish two additional art centres – Umbakumba Women's Art in the historic Fred Grey House, and Angurugu Men's Art located at the Angurugu Culture Centre; in addition to developing a robust outreach program.
While most well-known for bush dye, dash painting, and our unique manganese barks, the artists of Anindilyakwa Arts have consistently pushed their creative practice to develop a diverse and experimental breadth of work. Historically, the art centre's creative program has been community led, exploring new creative expressions while honouring traditional artistic practices.
Anindilyakwa Arts has always had a strong focus on supporting inter-generational transmission of knowledge and encouraging all community members to learn new skills.
Today, Anindilyakwa Arts sits within the ALC's Preserving Culture department and strongly supports the department mission of Warnumamalya led programs sustaining, sharing, and celebrating strong culture.
As a social enterprise of the ALC, we uphold the council values of:
Protect, maintain, and promote Anindilyakwa culture
Invest in the present to build a self-sufficient future
Create pathways for youth to stand in both worlds
Frequently Asked Questions
What is an art centre?

Art Centres are dynamic, indigenous owned not-for-profit enterprises who sell and distribute art. Art centres are also art studios, museums/keeping places, meeting places, centres of employment and up-skilling, repositories for Indigenous cultural knowledge, and a safe place for community.

Art centres fulfil a unique role in community. They provide important economic opportunities in addition to supporting strong social and cultural outcomes. Learn more about art centres here and here.
Who makes the artwork?

All Anindilyakwa Arts artwork is made by warnamamalya (Indigenous) artists who are members of the art centre. Art centre membership is free for all community members. Artists may create work in the art centre, at home, or on Country.

Certificates of authenticity are available for all Anindilyakwa Arts artwork.
Do the artists receive fair payment?

Yes, Anindilyakwa Arts is a member of the Indigenous Art Code. Artists receive majority of the artwork sale price, with the remainder being reinvested into the art centre program.

By buying artwork from Anindilyakwa Arts, you are directly supporting remote warnamamalya artists and ensuring that your artwork is both authentic and purchased for a fair price. Learn more about ethical art purchasing here.