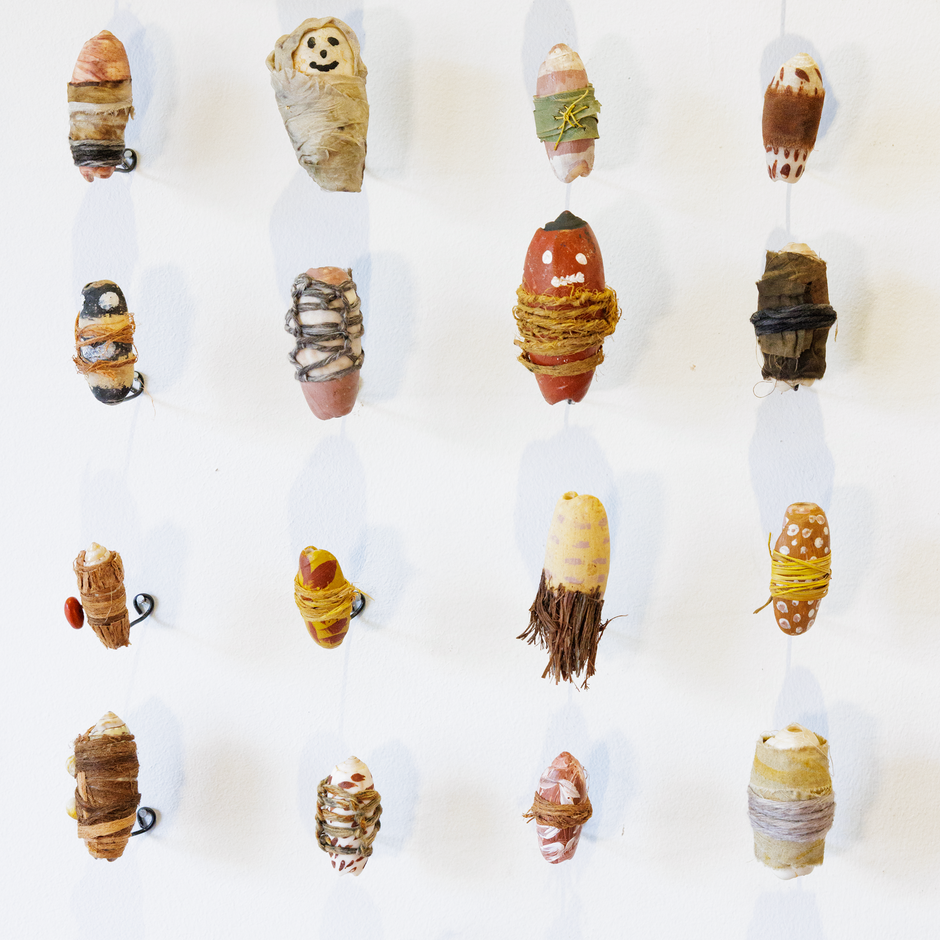 Dadikwakwa-kwa
The Dadikwakwa-kwa (Doll Shells) project emerged from a request from Manchester Museum to return cultural material in late 2022, a collection that included Doll Shells. During consultations, it was revealed that Doll Shells only existed in the living memory of four female elders who confirmed that Doll Shells have not been seen or created in over 50 years.
The women of Anindilyakwa Arts were moved by the stories of the Doll Shells and decided to revive the unique Anindilyakwa art practice, collaborating to create a large Doll Shell installation to celebrate their return. Artists created a grid of fourteen by fourteen doll shells to represent the fourteen clans of the Groote Archipelago.
The collection of 196 Doll Shells were selected as a finalist in the 2023 National Aboriginal and Torres Strait Islander Art Awards (NATSIAA) at The Museum and Art Gallery Northern Territory (MAGNT) in Darwin.
"Doll shells they're not just shells, they've got spirits inside them. We can talk to them; they can answer us back. It's like a dream, they answer, it is very strong. But you have to believe and trust them. They keep everything for us - knowledge, stories and meaning. If you ask them questions, they tell you where they come from. Groote Eylandt. Because their spirits are everywhere on the Eylandt and made with everything from the Eylandt.
Doll shells are a very special shell. People used to play with them, do literacy and numeracy. Real matters, like when a woman has new twins, the children go outside and play with the two twin doll shells; they are copying, learning about life. And the kids copying real life and learning about life. They have two doll shells and put them in the coolamon, they call their names and take them with other kids to play. Just a couple of the old ladies remember the doll shells, not many. People are very excited to bring the doll shells back, especially the old one, the old people.
Now with the doll shells, we are using many ways - we have to use many ways with many women. The art ladies made doll shells and painted them with ochre; some gave them faces, dressing them up with bark, leaves, maybe pandanus or new-way with bush dye.
I'm so glad that we made the doll shells, it's clicked our minds back, especially the old people. I'm so glad that we made the doll shells, it's clicked our minds back, especially the old people. They click their minds back in the past and they thank the art ladies for what we have done. We make them so happy because we've only got a few elders left and we have to be strong for them. Doll Shells have lots of stories and meanings, the doll shells tell them so it's not forgotten. It's still happening, and we are just giving it life back. It's coming back to life now and it's going to be like that forever - our future."
- Danjibana Noeleen Lalara